Knowledgebase
Employees

Employees Short Tour

Start your personal development

Help each other develop

Security & GDPR

Teamcoach

Teamcoach Short Tour

Managing employees

Admin

Admin Short Tour

Organize the environment

Admin Managing employees
Messages on dashboard
Under "messages" on your dashboard you have a clear overview of your open requests. You can enter the requests directly from your dashboard so that you don't have to search in your mailbox.
Admin:
How your message overview appears on your dashboard depends on your role. As an admin, you will be guided through the tool with various tasks, such as instruction videos and explanatory texts. You can complete these practical tasks yourself and remove them from your overview. This is supplemented with open requests such as giving feedback.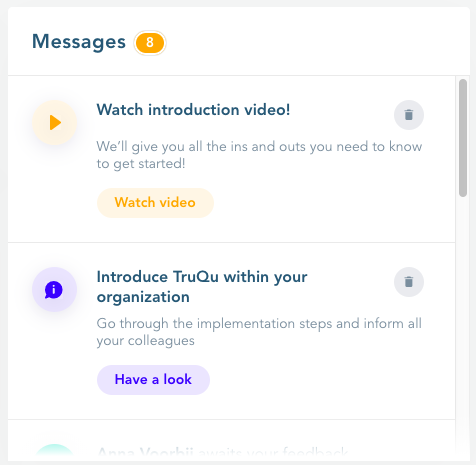 Professional and team coach:
As a professional and team coach you will immediately see your outstanding requests here. If you, as a professional or team coach, need instructions, you can always consult this help page to provide information.