Knowledgebase
Admin

Compliments

Dashboards

Goals

Asking feedback

About TruQu

Reflection

Users & Roles

Security & GDPR

Settings
Making a template
This is possible for: admins
This is not possible for: team coach, professional
Admins can go to the templates by clicking on 'templates'. This can be found under 'admin' in the top bar. Here you will find an overview of all templates. You start a new templates by clicking on 'new template'.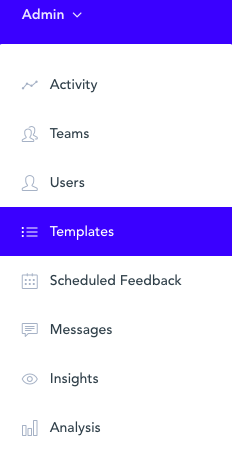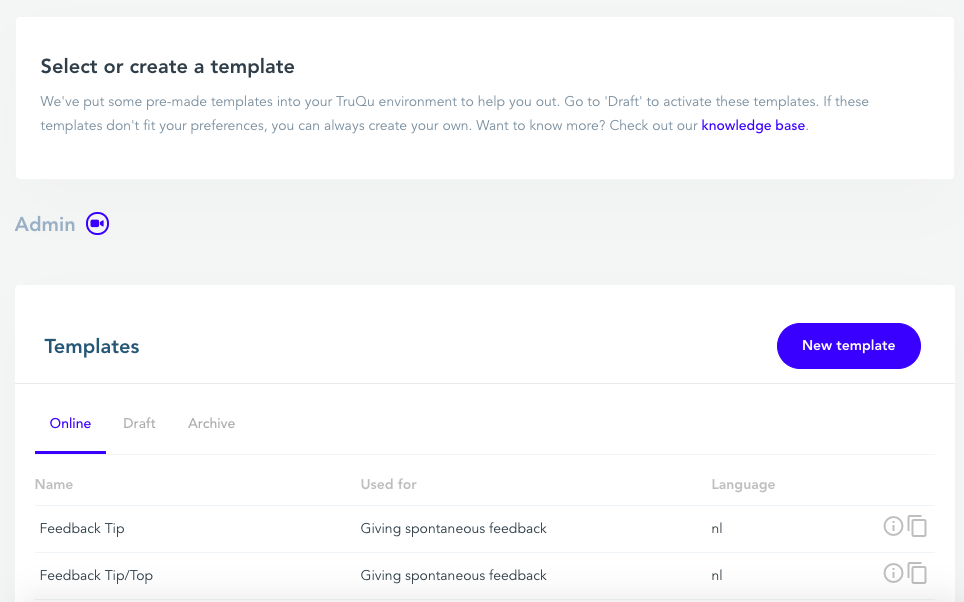 Template reference
Indicate what your template is used for. When performing this action, the template will then appear and can be used. Then select the language of the template. This language selection ensures, among other things, that respondents receive English e-mails when they fill in English templates and Dutch e-mails when they fill in Dutch templates.

Content template
Now you can start creating the template. Everything you create below is visible to the person who fills in the template. You start with the title of your template. You can then click on the plus sign to open the element bar. Here you can add new elements to your template.


Header
The first element is a header. You can use this to place (intermediate) headings in your questionnaire to give structure to your list. This allows you to indicate that you are going to the next topic of the template, for example.

Text
The second element is a text. You can use this to ask a question or to provide a description. After creating a question using a text element, you can add a new element to indicate what answer option follows the question. You can choose from an open question, a rating, a slider or a multiple choice entry.
Answer field
The third element is an answer field. This can be added below the text in which a question is asked in order to create an open question. This is therefore different from the "text" element. Use "Answer field" to create an answer option. "Text" is used to ask the question or to give a short description above an answer option.
Rating
The fourth element is a rating. With a rating you give the respondent the opportunity to answer a question with the help of a scale.
Slider
The fifth element is a slider. With this you can add an answer option under a question to give a scale between 1-10 or 1-100.
Multiple Choice
The last element is a Multiple Choice entry. You can indicate which answers the respondent can choose.
Publish, Save or Cancel
You will see three options at the bottom of the template. With 'publish' you put the template live and can be used. By clicking on 'save', you save the concept and you can change it later. By 'canceling' you go back to the template list and do not save it.